Often described as "varicose veins of the anus and rectum," hemorrhoids are enlarged, bulging blood vessels in and around the anus and lower rectum. The rectum is the bottom section of your colon (large intestine). The tissues supporting the vessels stretch. As a result, the vessels expand, the walls thin and bleeding occurs. When the stretching and pressure continue, the weakened vessels protrude. The two types of hemorrhoids, external and internal, refer to their location.
External (outside) hemorrhoids form near the anus and are covered by sensitive skin. They are usually painless unless a blood clot (thrombosis) forms.
Thrombosed external hemorrhoids are blood clots that form in an outer hemorrhoid in the anal skin. If the clots are large, they can cause significant pain. A painful anal mass may appear suddenly and get worse during the first 48 hours. The pain generally lessens over the next few days. You may notice bleeding if the skin on top opens.
Internal (inside) hemorrhoids form within the anus beneath the lining. Painless bleeding and protrusion during bowel movements are the most common symptoms. However, an internal hemorrhoid can cause severe pain if it is completely prolapsed. This means it has slid out of the anal opening and cannot be pushed back inside.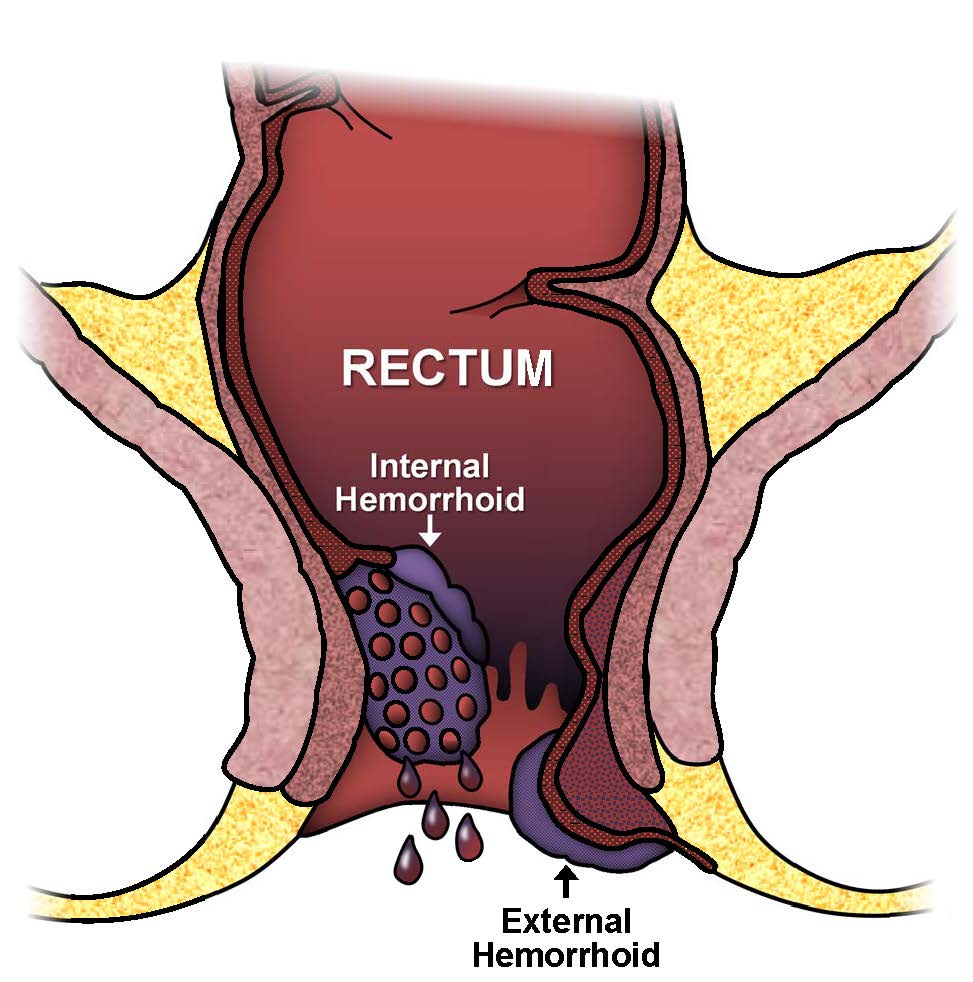 RUBBER BAND LIGATION OF INTERNAL HEMORRHOIDS:
Bulging, bleeding, internal hemorrhoid
Rubber band applied at the base of the hemorrhoid
About seven days later, the banded hemorrhoid has fallen off, leaving a small scar at its base
Injection and Coagulation: This method can be used on bleeding hemorrhoids that do not protrude. Both methods are fairly painless and cause the hemorrhoid to shrivel up.
Hemorrhoid stapling: A special device is used to apply staples and remove tissue from internal hemorrhoids. While the stapling method can shrink internal tissue, it cannot be used for external hemorrhoids. This procedure is generally more painful than rubber band ligation, but less painful than hemorroidectomy.
Hemorrhoidectomy: This is the most complete surgical method for removing extra tissue that causes bleeding and protrusion. It is done under anesthesia using either sutures or staples. Depending on the case, hospitalization and a period of rest may be required. Contrary to popular belief, laser methods do not offer any benefit compared to standard operative techniques. Laser surgery is expensive and no less painful.
Hemorrhoidectomy is considered when:
Clots repeatedly form in external hemorrhoids
Ligation is not effective in treating internal hemorrhoids
The protruding hemorrhoid cannot be reduced
There is chronic bleeding
DO HEMORRHOIDS LEAD TO COLORECTAL CANCER?
Hemorrhoids do not increase the risk of colorectal cancer nor cause it. However, more serious conditions can cause similar symptoms. Even when a hemorrhoid has healed completely, your colon and rectal surgeon may request other tests. A colonoscopy may be done to rule out other causes of rectal bleeding. Every person age 50 and older should undergo a colonoscopy to screen for colorectal cancer.
WHAT IS A COLON AND RECTAL SURGEON?
Colon and rectal surgeons are experts in the surgical and non-surgical treatment of diseases of the colon, rectum and anus. They have completed advanced surgical training in the treatment of these diseases as well as full general surgical training. Board-certified colon and rectal surgeons complete residencies in general surgery and colon and rectal surgery, and pass intensive examinations conducted by the American Board of Surgery and the American Board of Colon and Rectal Surgery. They are well-versed in the treatment of both benign and malignant diseases of the colon, rectum and anus and are able to perform routine screening examinations and surgically treat conditions if indicated to do so.
DISCLAIMER
The American Society of Colon and Rectal Surgeons is dedicated to ensuring high-quality patient care by advancing the science, prevention and management of disorders and diseases of the colon, rectum and anus. These brochures are inclusive but not prescriptive. Their purpose is to provide information on diseases and processes, rather than dictate a specific form of treatment. They are intended for the use of all practitioners, health care workers and patients who desire information about the management of the conditions addressed. It should be recognized that these brochures should not be deemed inclusive of all proper methods of care or exclusive of methods of care reasonably directed to obtain the same results. The ultimate judgment regarding the propriety of any specific procedure must be made by the physician in light of all the circumstances presented by the individual patient.